The below steps apply to model:CB1、CB1C、X04、Smart PTZ Camera
Step 1: Power on
Please unplug and re-plug to ensure the power adapter and the power cable are connected properly.

Step 2: Reset the device
Please rotate the "head" of the camera vertically to find the reset button and then press and hold it for 3s. After releasing the hole, you will hear a reset sound and the camera will automatically rotate. The completion of the rotation means the reset is successful.

Step 3: Make sure the camera enters the scanning state
After resetting, the device will automatically enter the scanning state. When the camera is in the scanning state, you will hear a continuous "Ding Dong Ding Dong" sound and see the white indicator light blinking at the same time.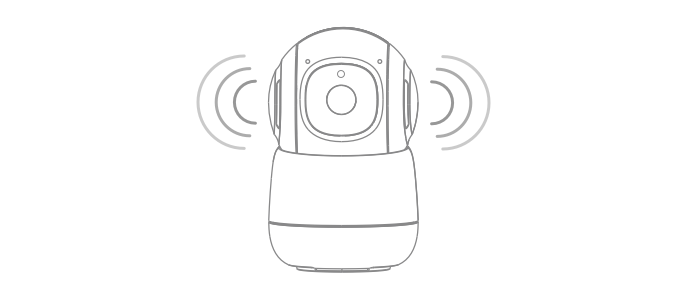 Step 4: Tap "Add camera"
After completing the above operations, slide up or down the current screen and then tap Add camera.
If you enter the article through FAQ, please go to the home screen to tap Add Camera Now, or tap +-> tap Add a new camera.
Next, you will be guided to connect the camera to the app. You can tap Add camera after reading the following steps.
Step 5: Prepare Wi-Fi network QR code
Select WI-FI, or manually enter the name of your Wi-Fi (Please note that the camera only supports 2.4G WI-FI). Then enter the password of the Wi-Fi to generate the WiFi QR code.
Step 6: Take the camera to scan the generated QR code
Take the camera to scan the QR code generated in the app

.

Please make sure the camera lens is clean.

Besides, the QR code should be 6~12 inches in front of the camera. You can slowly move the camera back and forth to adjust the distance to get the best focus.

And please do it in an environment that is not too bright or too dark.

If the camera successfully scans the QR code, it will make a beep sound "Ding".
Step 7: Name the camera and set a location for the camera
Name your camera and choose/add/edit the location where your camera is placed.
If you have any problems, please contact us from User->Feedback.